During the cold winter days there is nothing better than warming yourself up with a cup of hot tea or even coffee. When I want to take it with me for a walk or anywhere else, thermos is the way to go.
With that being said, you can always use a good quality thermos in the summertime as well. It can be a great tool to cool your drink with. If the weather is especially hot and you're on the move, ice cold water of any other drink of choice from a thermos will feel amazing.
In this article I want to introduce you to one of the best purchases I've managed to make, which is the Stanley Thermos.
First to create vacuum insulation
First off I want to start by sharing the Stanley history just in a few short paragraphs. The Stanley brand has a rich history of more than a 100 years. It all started with the American inventor William Stanley, who in 1913 changed the drinking habits of hot drinks forever.
He introduced a vacuum insulation that is easy to combine with a stainless steel water bottle. A remarkable and useful invention known today as a steel Stanley thermos.
Since then William's thermos has evolved from a concept to an icon. It has become an integral part of office work, outings and outdoor adventures. Now let's get to my actual review.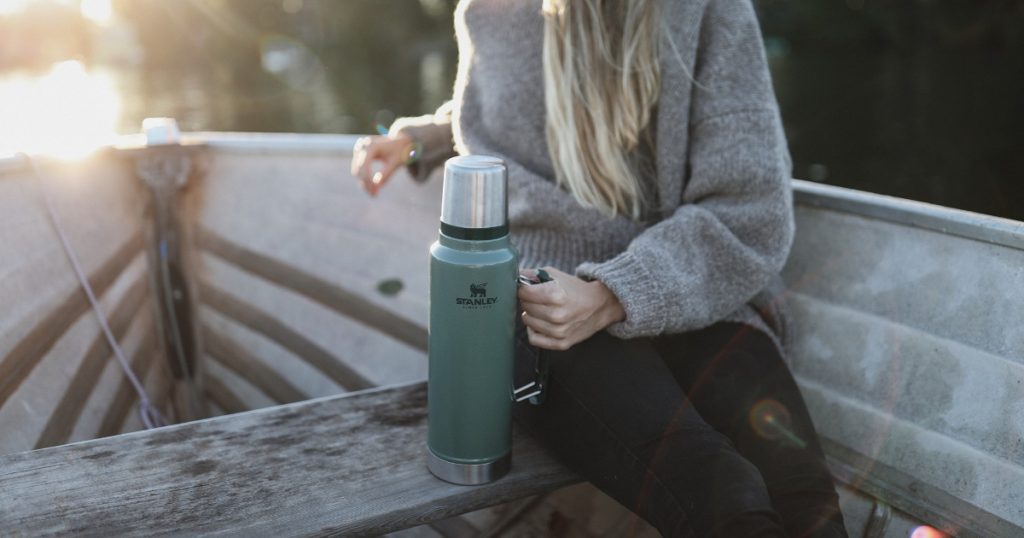 Durable for everyday use
First thing that mattered to me the most was durability. I wanted a thermos that would not break or bend the first time I'd manage to drop it. Stanley thermos surprised me to my core, because this thing truly feels unbreakable.
After doing a little more research, I found out that the brand actually does some intense testing of their products. Fro example, Stanley thermos products have even been shot with real bullets to test their durability.
Another fun test was dropping them to the ground while riding a motorcycle in high speed. Needless to mention, the thermos survived. With this proof I've gotten everything I needed to convince me.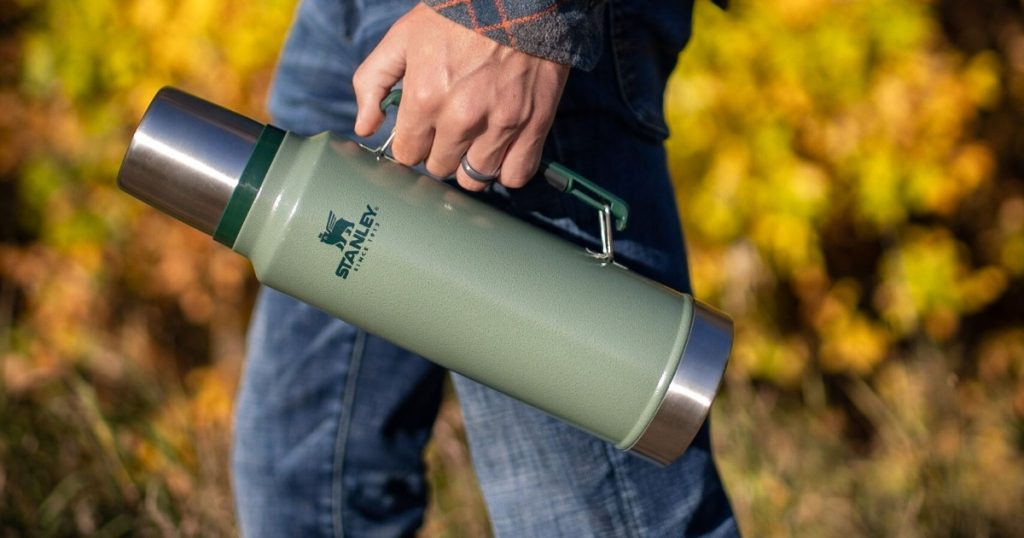 Matt grain top coloring
Another thing to take into account is the top color coat of the thermos. Stanley has a great top color coat which is available in classic earth toned palette, besides it's all matt. The great matt finish lets you grab your thermos in an effortless way.
It also positively affects the bruising and any other damage that might occur when dropping your thermos etc.
Impressive temperature resistance
And last but definitely not least, the temperature resistance. When buying a thermos, you want to make sure you're getting the best possible option. I chose Stanley based on trusting them, since it's a brand with such huge success and long history.
Now that I've tested out this thermos too, I can honestly vouch for them. It's important to get a thermos that won't disappoint you when you need it the most.
I have a green thermos, just like the one in the photo above. It comes in 1L bulk, which is enough for me personally. The best thing about it is that it keeps my drinks hot for 24 hours, just like with cold drinks. Usually there is a significant difference between hot and cold drink temperature capacity. If you add ice, the thermos will keep your drink cold for up to five days!
I truly love thos Stanley thermos and I am excited to try out more of their products. I recommend you do too, if you're in a need for some timeless and high quality products!
Check out my other reviews such as Stanley travel mugs: Trigger Action vs Neverleak or My EQUA water bottle review.