A quality thermos is an essential part of every decent household. On days when the weather starts to get chilly and germs start to roam the world, a thermos filled with a warming beverage is a great help. In this review, we will focus on the Aladdin CityPark Thermavac thermos. There are also many good thermos brands.
This thermos stands out for its impressive thermal resistance and double cup. It has an elegant design, available in 5 colours.
Aladdin is a water bottle brand that has proven itself since 1908 with eco-friendly solutions, quality and innovation. This thermos is no exception, its large 1.1L capacity with built-in double jug. The thermos will keep your drinks hot or cold for up to 25 hours. While Aladdin is mostly recognised for its water bottles, thermo bottles and insulated cups, this Aladdin CityPark Thermavac 1.1L thermos is just as worthy of attention. In this review, we will share the details of the thermos.
The brand is passionate about creating iconic water bottles and travel mugs that boost consumer's lifestyle and supports their demand for quality, design, sustainability, and good. Every Aladdin product comes with their Sustain Promise, which guarantees that your Aladdin product comes with the latest innovation, quality, social responsibility, and environmental stewardship.
You can check out the best thermoses here.
We have divided the review into the following sections:
Aladdin design
Thermos size
Features
Thermal resistance
Thermos-style and design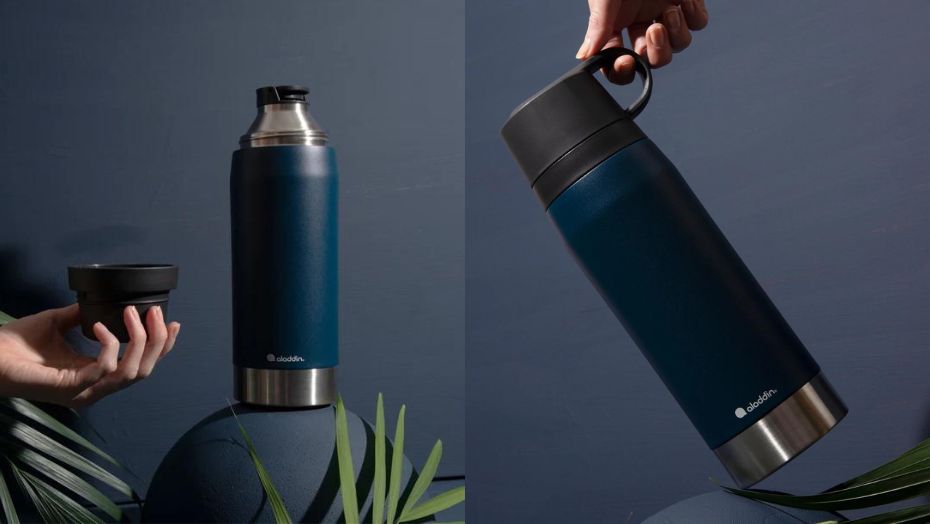 Aladdin thermoses are available in four different colors – light grey, burgundy, dark blue and sage green. The colour palette is very tasteful. Looking at these thermoses, people sometimes worry that the colour might come off. The matt thermoses are coated with a durable powder-coated finish that prevents color loss.
This thermos is special because of its built-in double cups. This thermos is great to take on hiking trips with friends. The double cups will quench the thirst of two people at the same time. As the lid has a wasp, it will be easy to fill and carry.
All Aladdin thermal products are made of stainless steel. The screw cap with handle of this thermos is made of plastic. Another great plus point of this thermos is that it has a push-on lid. This is great for easy filling of cups and prevents spills.
Capacity, weight and size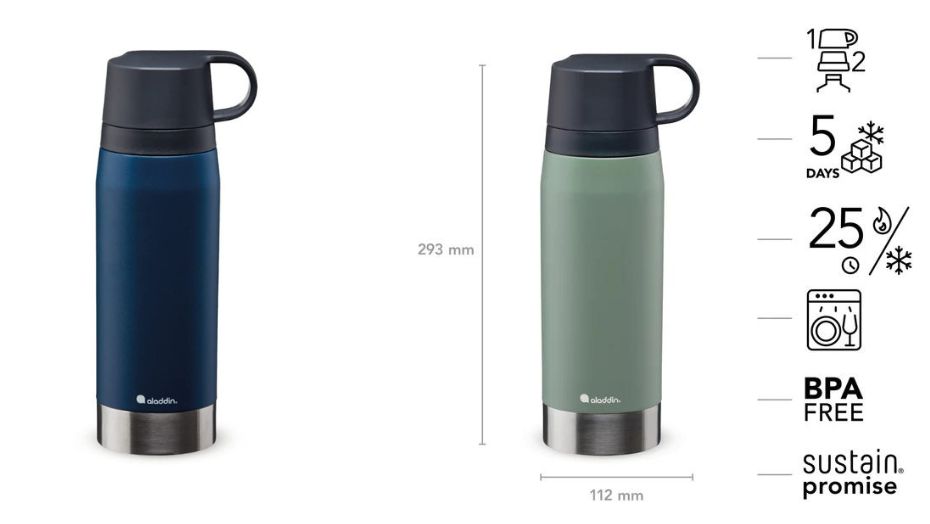 This thermos may seem large. It measures 11.2 x 9.3 x 29.3 centimetres. Considering its 1.1L capacity, the size is moderate. The weight of this thermos is 600 grams, compared to the Stanley Legendary Classic 1L thermos, the Aladdin thermos is 210 grams lighter.
Compared to other brands, it is relatively wide. We consider this a disadvantage as it is more difficult to hold in one hand. In our opinion, this width is outweighed by the cup with its handle. Again, compared to the Stanley Legendary Classic 1L thermos, it has a much handier handle. The handle of the Aladdin thermos will take up minimal space in your bag.
Features
Aladdin has taken care of the thermos' user-friendly functions. Its cups can be conveniently unscrewed and topped up with a push-on cap. The pouring opening of the thermos is not wide, so that no large quantities of drink will be spilled if the thermos is accidentally knocked over.
The outer body of this thermos is matt, which ensures a pleasant hand-hold. Other thermoses tend to be smooth, but this one is matt. Its powder-coated matt finish ensures a pleasant grip.
The Thermavac technology used in the bottle ensures that your drink stays hot or cold for a long time. The vacuum insulation and clever easy-pour lid keep the heat in the flask. The bottle is also leak-proof, so you don't have to worry about spills.
Thermal resistance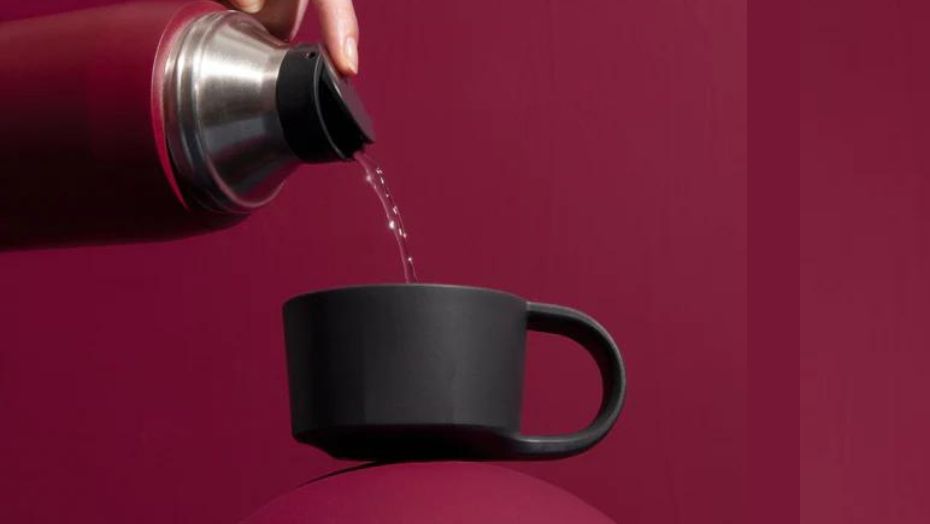 The manufacturers promise to keep the drink hot or cold for 25 hours. According to them, a hot drink is between 95 degrees Celsius and 60 degrees Celsius, while a cold drink is between 4 degrees Celsius and 10 degrees Celsius. We studied the thermostability of thermoses from other manufacturers with similar capacities and found that the Aladdin thermos has a long thermostability.
The manufacturers have quoted that the thermos could keep a cold drink with ice for up to 5 days. We don't know who needs to keep liquids in a thermos for that long, but it is impressive. There's no denying that this thermos is also a great companion on hot summer days.
Hopefully you have learned more about this Aladdin thermos. But if you want to know more about thermoses and find out which are the best thermoses, we recommend you take a look at this article Best thermos for whole lifetime. Here are some reviews of Stanley Thermos and Thermos Traveler.
.