A thermos is a useful gadget for both winter and summer. A good thermos maintains the temperature of the drink in it for several hours. Ideally, all day or even several days. So here is a list of best thermos brands of 2022.
This article summarizes the top thermoses from well-known brands that have proven to be reliable over time. Hopefully you find this article to be interesting and you can find the thermos that fits your needs the most.
What is a thermos?
First thing's first, when we talk about thermoses, it is important to understand what they are.
By definition, a thermos is:
''a container (such as a bottle or jar) with a vacuum between an inner and outer wall used to keep material and especially liquids either hot or cold for considerable periods''.
In this article we are looking at thermoses that are mainly made for drinks. It is important for the thermos to not disappoint and hold the temperature of the drink for hours upon hours. Since they are mostly taken on adventures in nature, a hot cup of tea can be crucial.
So here are our best thermos brands of 2022. And best thermoses for the whole lifetime.
The durable Stanley thermoses
Stanley is an American brand that has existed for a little over a century. During its long existence, the brand has managed to perfect its products. Now they offer not only water bottles and isolated vacuum bottles, but also everything else for comfortable eating, drinking and cooking in nature. Thermoses are still one of the brand's most popular products among customers.
When thinking of the best thermos brands, Stanley has to be the top option. Stanley thermoses are made of high quality stainless steel. As a result, each thermos has a lifetime warranty. The brand aims to provide customers with products that will never need to be replaced.
The Stanley thermos Legendary Classic 750ml in classic green is quite popular. This color is a trademark of Stanley thermos. One of the best is considered the Stanley The Unbreakable Thermos. With a volume of 1.3 L, it is able to keep a hot drink for 40 hours. It's expensive, but it's really worth investing in.
If you're interested in discovering more on this brand, there are two articles for you to check out – Stanley drinkware and more for outdoors lovers and The Amazing Stanley Thermos review.
Classic thermoses from the brand Thermos
Thermos is also a brand with a history of more than a century. Its name already shows a known dominance over all the other brands. They were one of the first companies to produce vacuum-insulated containers for maintaining the temperature of beverages. The first product, the production of which was started and is already understood from the name, is a thermos.
Thermos offers a wide range of products such as insulated food jars, beverage bottles, travel mugs, and kids' products. Their products are designed to keep food and beverages hot or cold for extended periods. The company's product line includes stainless steel vacuum insulated bottles, glass vacuum insulated bottles, and BPA-free plastic bottles.
Their thermoses are elegant and equally practical. Large thermoses with a capacity of about 1 liter can maintain a temperature for about 24 hours. In addition, it is often cheaper to buy large thermoses. Especially if you have to go hiking or on any other adventure with friends or family. Everyone will get a chance to get warm with a hot tea or coffee or any other drink.
These thermoses are made of high quality stainless steel and are leak-proof. The large thermos also comes with a comfortable handle for easy carrying. If we had to choose, the Thermos brand would definitely be in the top 3 best thermos brands of all time!
One of the most popular products is the large 1.2 liter Thermos Stainless King.
Heres a review about Thermos Traveler.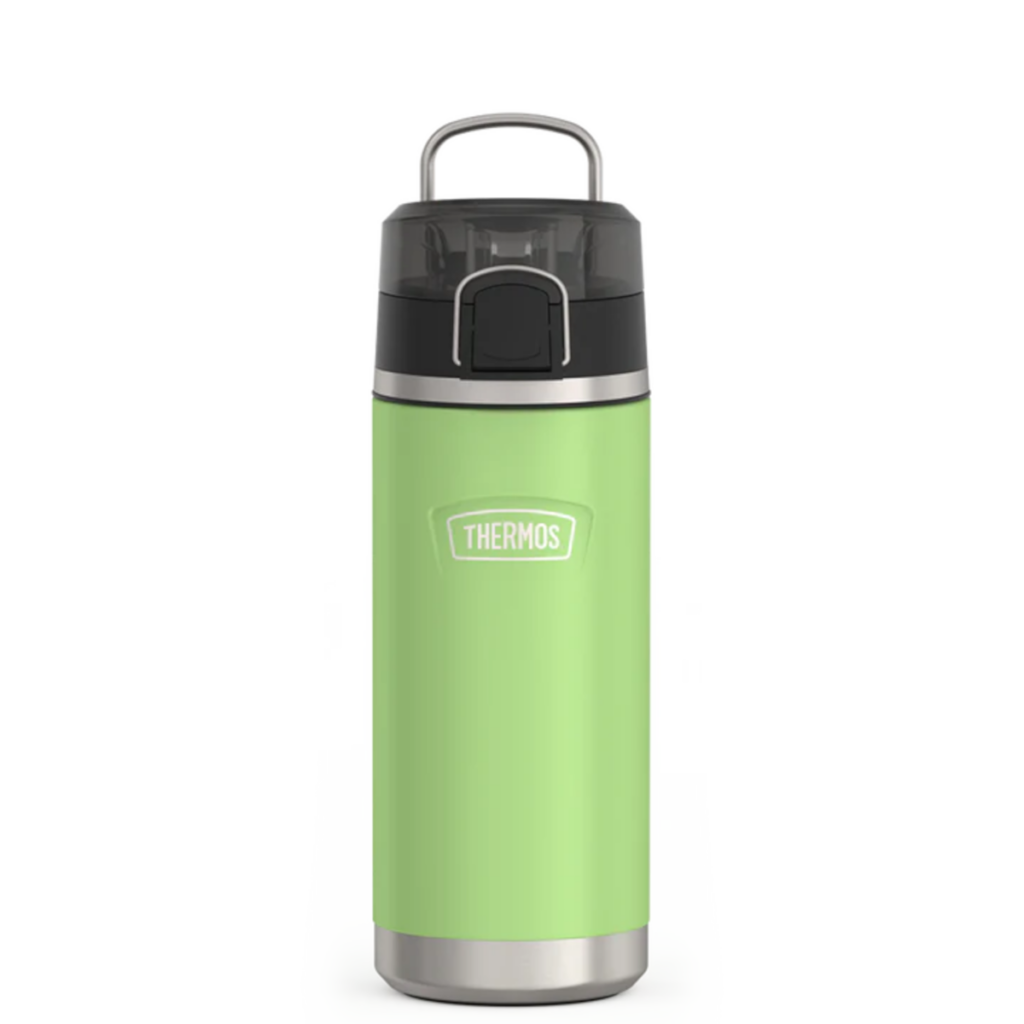 The legendary Esbit thermoses
Esbit is a family business from Germany that has been active since the 1930s. It instantly comes to mind while thinking of best thermos brands. This brand has earned recognition for its legendary quality thermoses. The words that best describe these thermoses are unrivaled thermal insulation and practical functionality.
They offer a wide range of products for outdoor activities, sports, everyday life, and extreme professional situations. Esbit is known for its pocket-sized cookers and heat tablets, which are used by campers, the military, and relief organizations. Esbit also produces thermoses that are designed to keep your food and beverages hot or cold for extended periods.
The company's slogan is "Created to survive!". This reflects the fact that the thermoses of this brand are also designed for lifelong use. They are of high quality and impress with long thermal resistance in various conditions. The Esbit brand mentions not only the storage time of the beverage temperature for each product, but also the heat in degrees for each hour the beverage is in the thermos.
Here is an example. Boiled water (98 ° C) at room temperature will be hot (65-75 ° C) after twelve hours and still warm (50-60 ° C) after 24 hours. Thermoses have passed similar tests when going on adventures in nature with anglers, hunters, skiers, etc. for owners of unforeseen weather hobbies.
The most popular of the Esbit thermoses is the 1 liter Esbit Sculptor thermos in black. It is often chosen as a gift.
The adventurous Klean Kanteen thermoses
Klean Kanteen is a California brand of water bottles, thermoses and vacuum bottles. It is one of the most fun brands because of the colors and the whole attitude. The Klean Kanteen brand creates its products as a bright reminder that it is time to be hydrated and do what you like – drink a cold or hot drink.
Klean Kanteen offers a wide range of products such as insulated food jars, beverage bottles, travel mugs, and kids' products. Their products are designed to keep food and beverages hot or cold for extended periods. The company's product line includes stainless steel vacuum insulated bottles, glass vacuum insulated bottles, and BPA-free plastic bottles.
They have come out with high quality thermoses, fairly recently. Their fun isolated water bottles have been around for a while. You could even say that Klean Kanteen insulated water bottles are good alternatives to thermoses. They can hold up the temperature of your drink for as long as some of these thermoses in this article. So it only makes sense that when this brand created thermoses, they were amazing.
The ones seen in the photos above, are called Insulated TKPro thermoses. They can keep the temperature of your drink hot for 28 hours and cold with ice for as long as 90 hours.
Glamorous SIGG thermoses
The origins of the SIGG brand go back more than 100 years, in 1908 in Switzerland, when a metalworker, Ferdinand Sigg, set up an aluminum factory. His convictions were strong enough to build a successful business that is especially relevant today. According to him, aluminum has a bright future.
The company is famous for its iconic shape of classic bottle and numerous designs. SIGG bottles are resistant to shocks and deformations, lightweight, and protect the contents from light. The interior coating is flexible and is unlikely to break or crack during deformations.
Sustainability and responsible production are also important to the SIGG brand over time. The company produces products that meet modern tastes and at the same time set new standards. The brand's design team in Switzerland is constantly developing new products, focusing on ever-changing customer needs and new trends.
The brand offers a wide range of water bottles and thermo glasses, as well as durable thermoses. The photo shows a thermos with a capacity of 1L, which keeps the temperature of the drink hot for 12 hours, but cool for 20 hours if necessary.
The cool Alfi thermoses
Alfi is also a lifestyle company that sells a wide range of goods to make people's daily lives easier. They also offer a great Alfi thermos that is practical and long-lasting.
Alfi's products are designed to keep food and beverages hot or cold for extended periods. The company's product line includes stainless steel vacuum insulated bottles, glass vacuum insulated bottles, and BPA-free plastic bottles.
Alfi's vacuum flasks are made of high-quality stainless steel with double-wall insulation and drinking mug lids. They come in different sizes such as 0.75 liters and 1.5 liters. Alfi's vacuum flasks are ultra-lightweight and compact, making them easy to carry around during outdoor activities.
Thanks to the double walls, the drink retains its temperature longer. The Alfi thermos keeps the temperature of hot drinks hot for up to 18 hours, but the temperature of cold drinks for up to 24 hours. This is a great thermos to take with you when you enjoy outdoor activities.
The elegant look of the thermos will allow you to take it with you to other everyday tasks. For example, take it for a walk or maybe even to the office, where you can drink hot tea or coffee all day long.
The comfortable Primus thermoses
Primus is a brand that comes from Stockholm. It has been around for 130 years, with everything starting in the faraway 1892. The brand started with creating the world's first soot-free kerosene stove. As it was the first, they decided to call it Primus (meaning first). Not long after they started creating other products as well. Nowadays Primus thermos has joined the product crew.
Made for everyday needs, these food grade 18/8 stainless steel thermoses are extra durable. They can keep beverages hot or cold, and don't pick up or give off any flavors. Primus also accentuates the pop of color these fun thermoses give off. The brand says that it is always nice to add a bit of color to your everyday life. Even in the form of a useful gadget.
The practical Leifheit thermoses
Leifheit is one of the most popular German companies that has been providing its customers with everything they need for the home for 60 years. The wide range also includes high-quality and practical thermoses for everyday and outdoor adventures.
Leifheit thermoses are made of stainless steel with good vacuum thermal insulation. For example, the 1L thermos shown in the picture can store a warm drink for up to 12 hours and cold for up to 24. As usual for convenience and practicality, the lid of this thermos can also be used as a small cup – so you can drink anywhere.
These thermoses are simple and tasteful. They are a great ally when you need to bring your favorite drink with you.
Which brand speaks the most to you?
Let me know! Hopefully you've enjoyed this article of best thermos brands of 2022!
There is an article where I have compared the best thermoses – Stanley, Thermos and Esbit. If you're interested in seeing which showed the best results, check out the article Best thermos test. Also article about Stanley travel mugs and how good is Aladdin thermos.