The brand Stanley create sustainable products for over a 100 years now. It's a brand that values not only sustainability but eating and drinking outdoors. To do so, they have created amazing travel mugs and thermoses that I have already written about on this blog. Besides those, Stanley drinkware has many options to choose from.
I love spending time outdoors therefore I am in need to get some more sustainable drinkware for my adventures. It's worth mentioning that Stanley created not only drinkware but also some cookware for both camping and home. For camping, you could use a thermos for lunch.
Come along with me to find some amazing products!
Stanley drinkware
Stanley has been around since 1913 when the inventor William Stanley changed the way hot drinks were consumed forever. He wanted to come up with something that could hold up the drink's temperatures for hours. To make a product both durable and heat resistant, he combined vacuum isolation with stainless steel. A vacuum bottle was born.
When it took over the world, a lot of other Stanley drinkware was introduced over the years. Here are the main products that are available on the Stanley website today. 
Stanley's products are designed to keep your drinks hot or cold for hours. Depending on the design and size you choose, your drinks will stay hot for at least 4 hours, cold for at least 5 hours, and iced for at least 30 hours.
I will be adding Amazon links to each product category.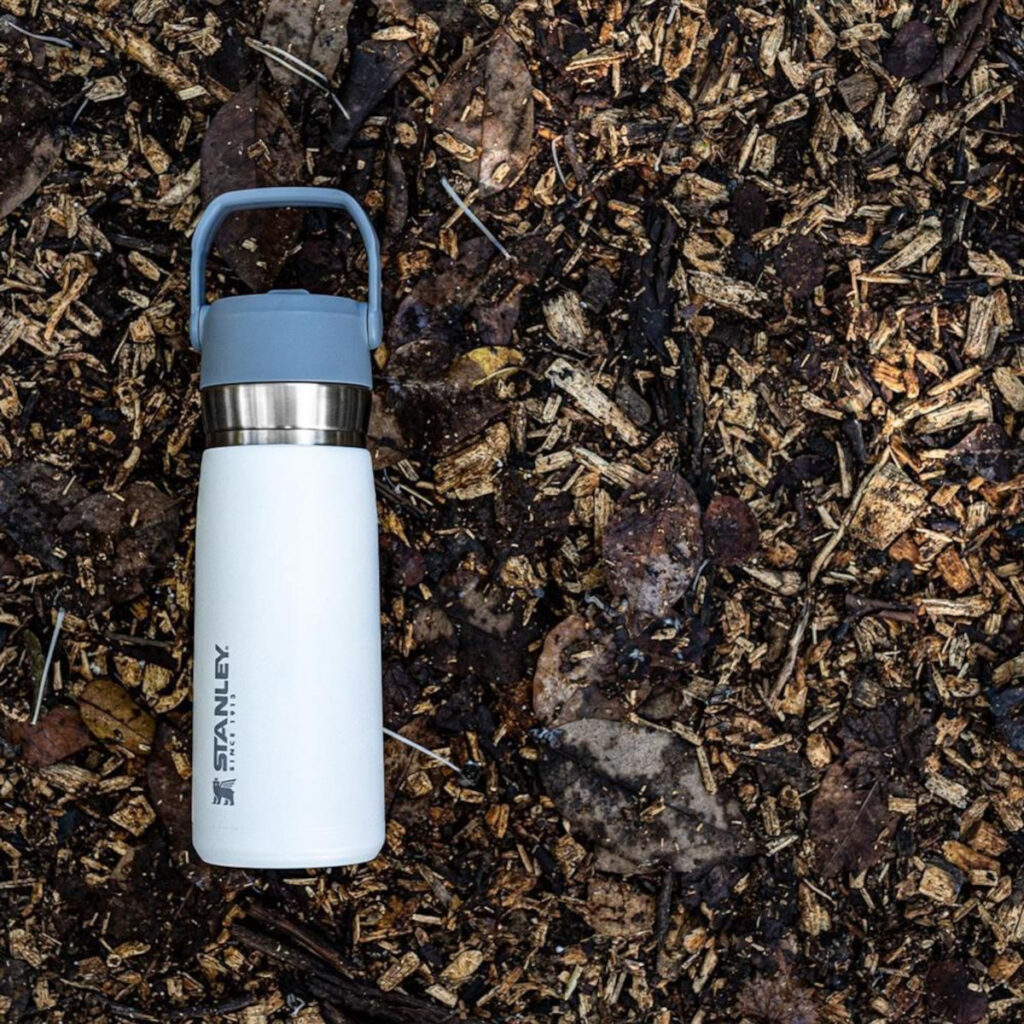 Water bottles
Sustainable water bottles are one of the most used products these days. A huge amount of people have realized that plastic bottles really do add up, buying them makes you spend a lot of money and participate in ruining our environment. Therefore choosing sustainable and reusable water bottles is a win-win situation – for you and for our planet.
Stanley water bottles are not necessarily meant for keeping your drink hot for too long, however most bottles from them do promise to keep your drink cold for around 10 hours. Since we mostly use our water bottles for sports or just everyday occasions, it makes sense they focus more on keeping us freshly hydrated.
Here is an example of a Stanley water bottle online.
Vacuum bottles
From all of Stanley drinkware product collection, vacuum bottles are one of the most popular ones. That is the first product that was introduced to the world from the Stanley brand. It is the beginning of everything therefore these vacuum water bottles are still widely used and overall legendary.
I have written a few articles on the amazing Stanley vacuum bottles such as The Amazing Stanley Thermos – review.
The main goal of the vacuum bottles is to keep your coffee toasty and your water ice cold for hours upon hours. These vacuum bottles are perfect for going outdoors and taking a beverage on your adventures.
Here is an example of a Stanley vacuum bottle online.
Mugs and cups
To fulfill the collection with even more fun and useful stainless steel products, Stanley brand created mugs and cups. These sustainable mugs and cups come in all kinds of shapes and sizes. You will quickly realize that there is definitely something for everybody – both for colors and different kinds of usage.
For example, these Stanley mugs are perfect for car cup holders. They are also greatly made so that you can use them while driving. They are easy to use and open with one hand only. I made an article on Stanley travel mugs: Trigger Action vs Neverleak. Check it out to find more about which Stanley travel mug I prefer.
Here is an example of a Stanley Travel mug online. Also for hiking, you could use an insulated cup.
Tumblers
A lot of people will agree with me that everything tastes better through a straw. For some reason that is true, usually for kids but also for many adults like me. So if I can find Stanley drinkware with an in-built straw or as Stanley calls them tumblers, I will get myself one.
Stanley tumblers are more on the fun side while still being very practical and sustainable. The stainless steel of tumblers helps to keep the drink's temperature hot or cold for hours. You can also choose an option without a straw, for those interested. These tumblers are also made for adventures if needed. Many of them, such as the ones in the photo, have handles for easier carrying.
Here is an example of a Stanley tumbler online.
Barware
For those who love not only hydrating but taking a fun shot or drinking ice cold beer once in a while, Stanley barware could be of interest. In this product category Stanley offers a huge variety of different kinds of barware items. Starting from shot glasses and beer mugs all the way to flasks and cocktail shakers.
There are a lot of already pre-made sets available. If you are somebody who loves going outdoors to relax and catch up with your friends in fresh air, a cocktail or a shot could do. For that reason you can be prepared with your own Stanley barware set all ready to go.
Here is a Stanley Shot glass set online.
Stanley cookware and food storage
The next huge category at Stanley is made entirely for those who love camping. When we go outdoors to relax and enjoy the wild, food is a must-take with you. Many times when we decide to take some food from home or a store, it might somehow end up in nature.
To prevent that, Stanley has created a whole cookware line – so that you can both cook and take food from home anywhere you decide to go.
Camp cookware
So one of the most fun parts about camping is eating food outdoors. There is just something special about it, how food simply tastes better when you're eating it in the fresh air. To make it even more special than some fire fried marshmallows and sausages, Stanley has a whole set of capm cookware for you to use.
And when I say they have it all, I truly mean it. For example, let me tell you what they have in this one set. There is a stainless steel pot, a vented lid, 3-ply frying pan holds, cutting board, spatula with extending handle, serving spoon with extending handle, 6 plates, 4 bowls, 4 sporks, dish drying rack, trivet and a locking bungee.
Here is a Stanley camp cookware set online.
Food jars
Another section of products is food jars which are meant for those who love cooking at home. We all cooked at home and took our food with us in some plastic containers. Both on school field trips or going camping. Now there is a better way to do it, and Stanley has it.
Food jars are an amazing way to keep your food hot (or cold) for hours upon hours. You can easily take your favorite soup outdoors. Just heat it up at home, put it in one of the Stanley food jars and it will stay hot for hours.
Here is a Stanley food jar online.
Lunch boxes
Lunch boxes are fun products that Stanley created for those who take their lunches with them on a daily basis. Whether it be taking lunch for school, university or work, Stanley made a fun one – it is also perfect for outdoors hobbies. Besides that there is also a metal bracket that will hold your Stanley travel mug or vacuum bottle in place. For precise sizing check out the Stanley online store.
It is not heat resistant like food jars are. However this lunch box is perfect storage wise and it will also keep your food pleasantly cold until you are ready to eat it. So for some sandwiches, veggies and fruits, cold drinks this will be a perfect option.
The lunch boxes are made of stainless steel and are tested to be leakproof, dishwasher safe, and EU-tested safe. There are insulated lunch boxes that can keep your food hot or cold for hours.
Here is a Stanley lunch box online.
Coolers and jugs
Coolers are very useful products for those who want to make sure they have an ice cold drink for the whole night. You could be going camping and taking a cooler with you filled with ice and some bottles of beer or other beverage of your choice. They are easy to grab and take with you on adventures.
Stanley also has water jugs. If you are in need to bring water for many people, a water jug will be the easiest option. It will be accessible to anybody while camping or doing other outdoor activities. Nobody will have to share bottles of water. So a water jug and a cooler are a must for those who love going outdoors regularly with a lot of people – friends and family.
Here is a Stanley cooler online. Also check out the review of Thermos traveler and the best thermos for whole lifetime.
That is it from me and Stanley for today!
So many fun products!