Water is an essential element of human life, because without it we could not live. It is essential to drink enough water during the day to boost your immunity and general well-being. If you have the right water bottle at hand, this is not that difficult. There are many brands of water bottles on the market, so everyone can find a water bottle that suits their individual needs and lifestyle. One example is the EQUA timeless water bottle.
In this article, we've rounded up the top water bottle brands to help you find the right bottle for sport and fitness, travel and hiking, office and home. Here are 5 reasons why you need a water bottle.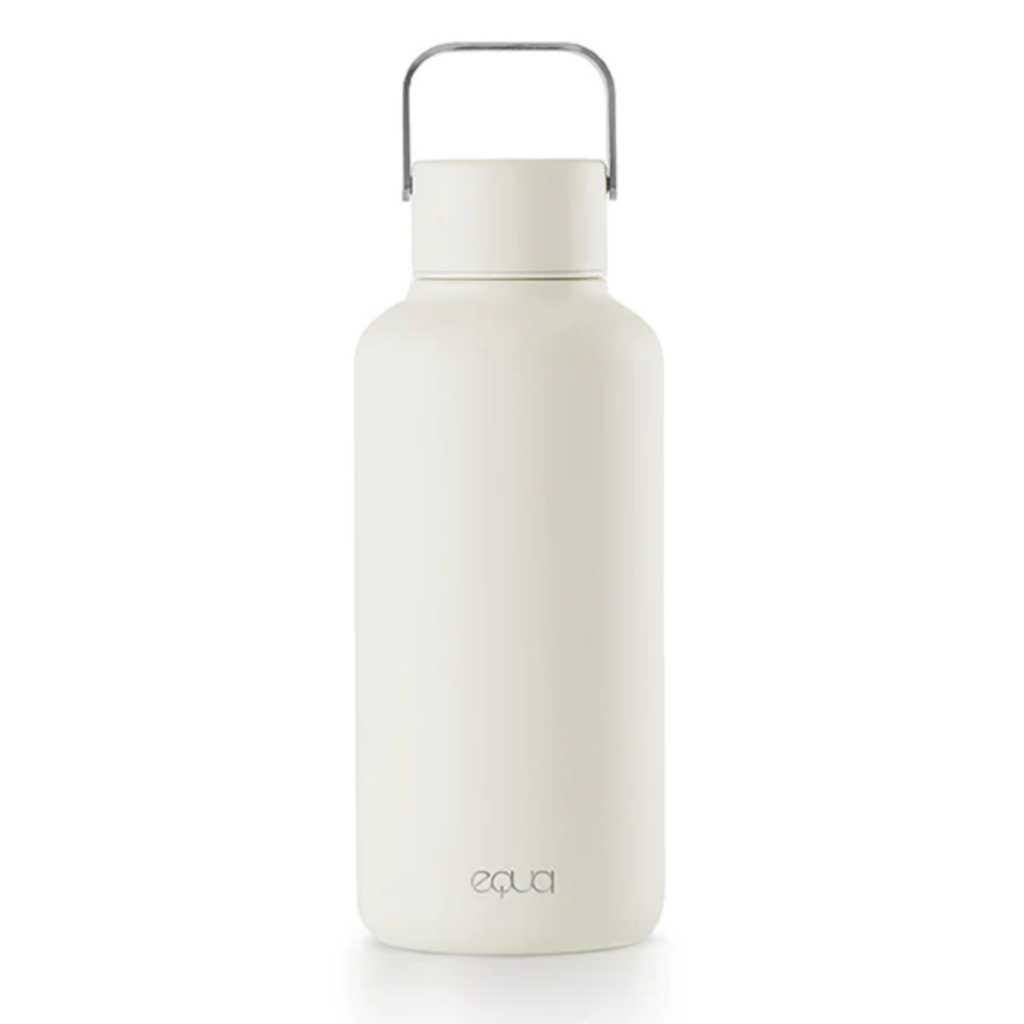 EQUA water bottles – elegant and inspiring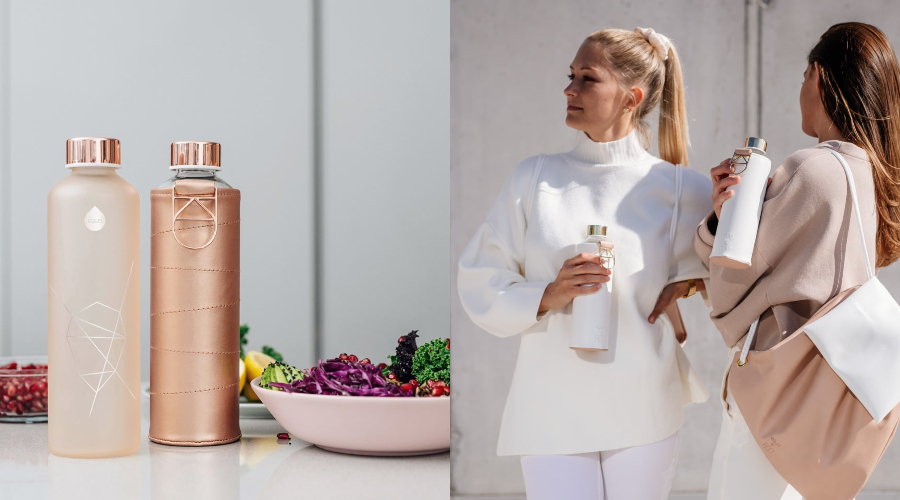 EQUA is a brand of water bottles from Slovenia. Word EQUA is a combination of two words – eco and aqua. Eco represents the brand's aim to reduce plastic waste worldwide by encouraging everyone to replace plastic bottles with sustainable bottles. Aqua is Latin for water.
The brand has been around for ten years. It has won the hearts of many thousands of supporters with its beautiful, elegant and aesthetic bottles. The most popular of the EQUA range are the beautiful glass water bottles. The brand also offers more convenient sustainable plastic water bottles for sports, everyday use and for children.
The brand believes that it is possible to do good in the world and have functional everyday gadgets without sacrificing stylish and modern design. High ethical standards are respected in production. Most of the products are made in Europe. Mainly Austria and the Czech Republic. Bottle accessories, such as bottle caps, come from China.
EQUA offers a range of stylish and sustainable water bottles in various designs. The bottles are made of stainless steel, BPA-free plastic, or glass. EQUA's products include smart water bottles that can be paired with a companion app for iOS or Android to help personalize your hydration experience. The company also offers glass water bottles made of high-quality borosilicate glass that are available in more than 40 designs.
EQUA's products are designed to help you stay hydrated and reduce plastic waste. According to the company, one EQUA bottle can replace about 217 single-use plastic bottles per year.
The most beautiful and elegant EQUA water bottles are available for purchase at UDENSPUDELE.LV.
Kambukka water bottles – an efficient and stylish everyday companion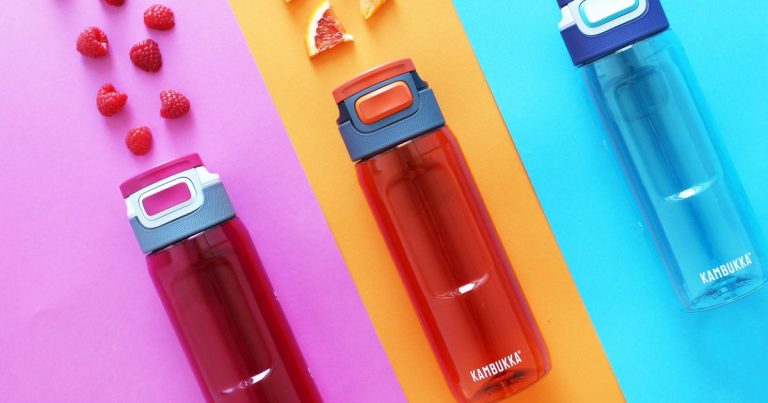 Kombukka is a Belgian brand that creates stylish water bottles and jugs to take with you on your daily routine.
Kambukka is Swahili for joy and the opportunity to be useful. Although this was chosen as the brand name, the founders have only recently become aware of the true meaning of this translation. Now, the Kambukka brand confidently recognizes that the chosen name is true to the company's values. They produce water bottles that will bring joy to the public and also add a useful gadget to their daily lives.
Kambukka encourages people to move away from single-use plastics in their daily lives and instead choose sustainable solutions. Equally important for the brand is the modern design of the products. The brand's plastic bottles are modern and elegant, while the steel bottles impress with their bright and playful design. Kambukka's trademark is tropical steel water bottles and thermos flasks in shades of green leaves and pink flowers.
When looking for ways to make drinking water quick and easy, Kambukka has created sustainable plastic water bottles with a 3-in-1 cap. The key feature of this innovative technique is a button. Button has 3 levels – open every time a drink is sipped, leave open and lock. The first function is designed for moments when the drink is sipped regularly. So that each time the button is pressed, the cap opens and automatically closes after the drink.
Kambukka bottles are very aesthetic, pleasing to the eye and definitely noticeable among other bottle brands.
You can buy sustainable Kambukka bottles and insulated cups at UDENSPUDELE.LV.
Aladdin bottles – a promise for a sustainable future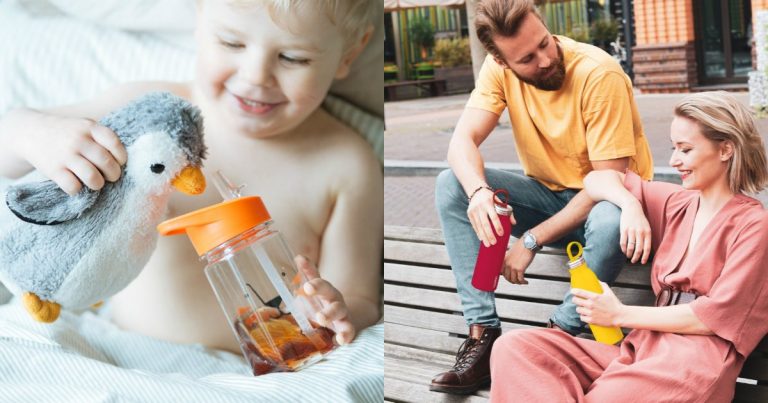 Aladdin water bottles have their roots in America, in Chicago. The water bottles come in a variety of designs, allowing people with different tastes and preferences to find the most appealing and desirable bottle look. Different colours, sizes and designs.
Aladdin bottles are convenient – they have reliable caps that allow you to carry the bottles in your bags and not worry about spills, straps for easy carrying. Even baby bottles have straws for a more pleasant and engaging experience. The bottles are made of plastic that is BPA-free or bisphenol A-free. Most bottles are made of Tritan, a high-quality plastic that does not release toxins.
It is a brand that cares about innovation, sustainable products and social responsibility towards people, nature and the world.
Aladdin is a brand that offers a range of sustainable and reusable water bottles in various designs. The bottles are made of BPA-free plastic and are tested to be leakproof, dishwasher safe, and EU-tested safe. Aladdin's products include Fresco Twist & Go Water Bottle, which is uniquely designed to be carbonated drinks friendly.
Aladdin's products are designed to help you stay hydrated and reduce plastic waste. According to the company, one Aladdin bottle can replace forever disposable bottles and cups.
You can buy sustainable Aladdin water bottles and insulated cups at UDENSPUDELE.LV.
Camelbak bottles for everyday and for sport – also water bags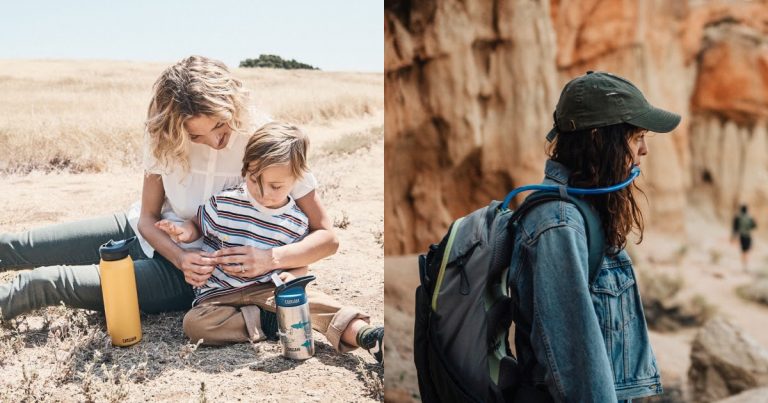 Camelbak is one of the bottle brands that has come up with a very original approach to solving the problem.
It all started with bicycle races, where it was important to drink enough water. But the more you stopped to do so, the more worse your score got. So the Camelbak brand was born with the aim of creating bottles that you could attach to a bicycle.
The most popular products are the bags with water bottles inside. Tubes come out of them and work like giant straws. Cyclists can then drink in peace while moving and without stopping.
Brand is still highly valued and popular. Both in the bicycle streams and for everyday hydration. The product range includes water bottles and thermal shorts for everyday use, as well as sports accessories, sports water bags and running vests.
The UDENSPUDELE.LV online shop sells sustainable Camelbak water bottles and thermal jackets.
Cheeki bottles – trendy and minimalistic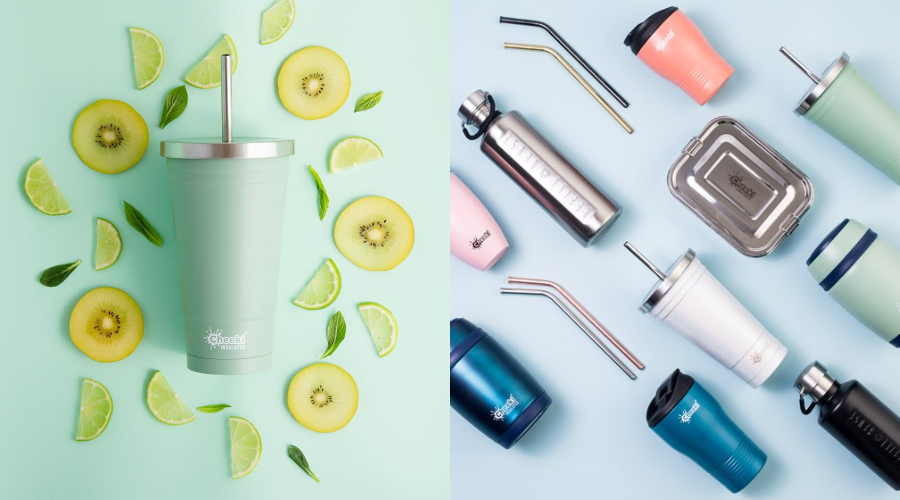 The Cheeki brand was born in Australia, by the sea, in 2009. It was the first brand in Australia to introduce a sustainable solution by offering stainless steel water bottles instead of single-use plastic. The brand feels motivated to protect the beautiful coastline, oceans and aquatic inhabitants of their land.
The Cheeki brand is characterised by ethical production processes, minimal, plastic-free and recyclable packaging. The brand's mission is not only to distribute and offer its products to people, but also to build an online community. Find like-minded people to share their vision of how the world should be – green, clean and joyful.
Cheeki offers not only beautiful and functional bottles, but also coffee cups and glasses, takeaway lunch boxes, food containers, reusable straws. Cheeki updates the colour palette of its bottles every season to keep up with trends. The water bottles are beautiful, matte and available in a variety of shades – from bright and cheerful to calmer and more pastel tones. The brand is confident in the quality of its products, as each product is backed by a lifetime guarantee.
The online shop WATER PUDELE sells sustainable Cheeki water bottles and thermo glasses.
Hydroflask water bottle – an ally for any adventure
The brand was founded in 2009. in Oregon, USA. Hydro Flask has become one of the most popular water bottle brands worldwide. The products have grown from sustainable bottles to coffee, wine and even beer mugs. Even food containers, bottles for children, as well as sustainable and quality clothing and accessories.
The brand's rust-free steel provides fresh taste as well as comfortable and stylish design. The Hydroflask brand positions itself as suitable for every adventure and life situation. From skiing adventures to summer hikes. From morning office meetings with a delicious coffee to peaceful sunsets by the sea with a cooling glass of wine.
The Hydro Flask brand has created a charity campaign called Perks For All. Through this organisation, the brand aims to promote the creation, maintenance and accessibility of green spaces. By creating new green spaces, the brand hopes to ensure healthier and happier lives.
The brand offers to design your own bottle, choosing from 11 different sizes, 3 different caps and 14 colours. A silicone base can also be added for easier surface placement.
Contigo water bottles – innovative and efficient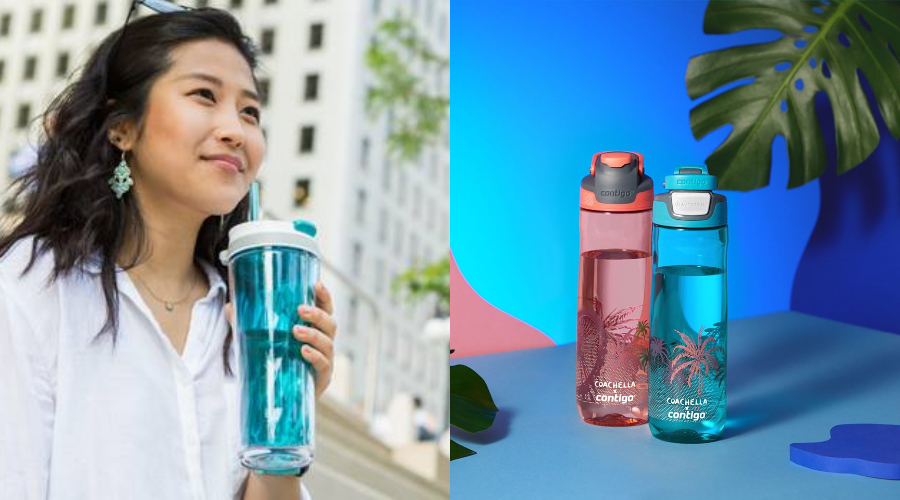 The Contigo brand recognises that customers want products that radiate innovation – something new, efficient and functional. The brand's design office has a motto: simple is complex.
Contigo aims to create products that each solve a significant problem. Therefore, the brand is constantly looking for problems to solve – including potential problems that customers might encounter in their everyday use. The brand listens to its customers, friends and social media followers.
The Contigo brand offers 3 main products – sustainable water bottles, water bottles for children and travel mugs. The products are made of stainless steel and are available in a variety of shades.
The travel jugs are designed for easy use and have a click-top, allowing the bottle to be easily opened with one hand. The materials used are BPA-free. The temperature of the drink is maintained for a long time – hot up to 5 hours, cold up to 12 hours. The water bottles are also made of stainless steel and the cork is attached to the bottle, so there is no chance of losing it. The design is trendy and practical at the same time.
You can buy sustainable Contigo water bottles and insulated cups in the online shop WATER PUDELE.
24 bottles water bottles – elegant Italian design and convenient shape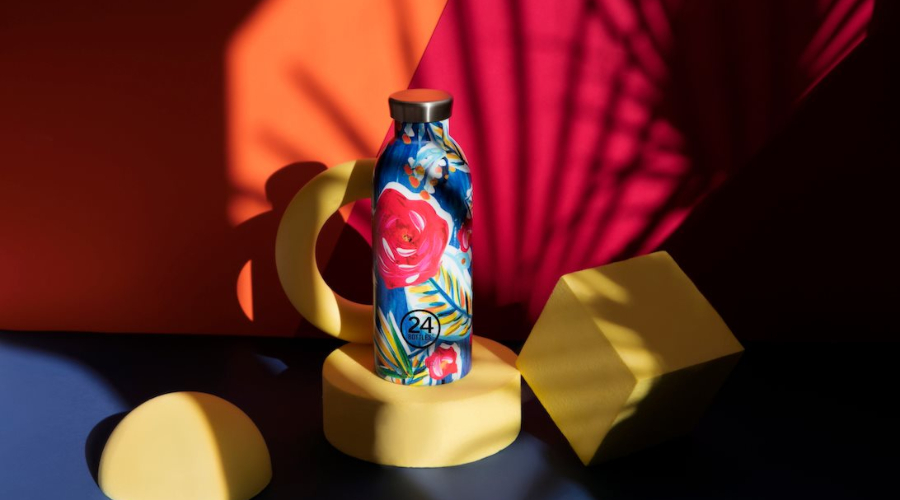 24 Bottles is an Italian brand created in the year 2013 with the aim of reducing the use of plastic bottles in nature and in people's daily lives. The idea of the brand comes from the desire to find the most convenient and functional way to regularly consume water in a healthy, elegant and ecological way, day after day.
The brand aims to create convenient and functional products that make the world a more pleasant and less polluted place. 24 bottles believes that good design can change people's minds about environmental issues. When everyday products are beautiful and stylish, people want to use them more and more often. 24 Bottles believes that a good aesthetic product can encourage people to adopt a healthier lifestyle and make more environmentally friendly choices.
The brand focuses on combining form and function, resulting in water bottles, related accessories and smart solutions for a more sustainable everyday life. Combined with each person's individual style and taste. The main advantage of the products is their elegant shape, which makes carrying the bottle easier and more convenient.
By choosing the 24 Bottles brand, you have the opportunity to reduce your negative impact on nature and the environment by reducing your daily plastic consumption. The special value of the brand is that each water bottle is created without consuming CO2. The bottles are labelled -0.08, which is equivalent to how much CO2 is used to produce one plastic water bottle. By refilling your sustainable water bottle, you save the production of one plastic bottle every time.
You can buy sustainable 24 Bottles water bottles and insulated cups at the online shop WATER BOTTLE.
MEPAL water bottles – big and small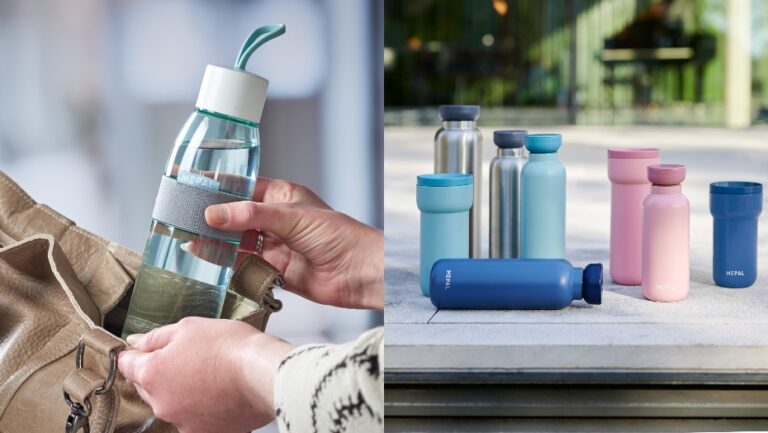 MEPAL is a great brand of water bottles and other sustainable products with a history going back more than 70 years. They base their relevance on designs that never go out of fashion. That's why the water bottles from their very first collections still look and serve great today.
Of course, this doesn't stop the brand from the will to innovate. MEPAL is keen to move with the times and give its customers the best. This is a brand that also cares about nature and it plays an important role in MEPAL's activities and objectives. Even though sometimes they feel that what they do is just a drop in the ocean, MEPAL still believes that doing something good is always a good idea. It all pays off in time!
You can buy sustainable MEPAL water bottles and thermal bottles at UDENSPUDELE.LV.
Klean Kanteen bottles – with a love for adventure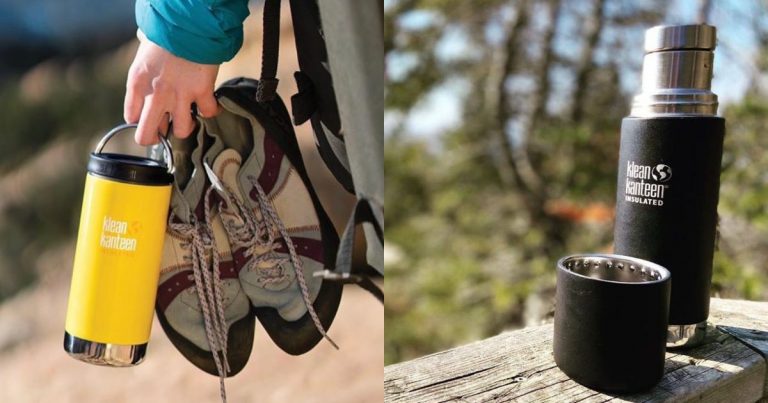 Klean Kanteen is a family business founded by a brother and sister from Chico, California. They have always felt more comfortable in nature than in the city. That's how this international company came to be.
When Klean Kanteen sold its first stainless steel water bottle back in 2004, the founders decided that someone else would create the need for reusable products. Today – reusable water bottles and coffee travel mugs are everywhere. Klean Kanteen has become an international brand that inspires hundreds and thousands of people, as well as dozens of start-ups. And the brand doesn't mind the competition at all, because in the fight against plastic pollution we are all on the same mission.
As the brand has grown, Klean Kanteen has remained a family business with many great helpers. For the founders, making their own decisions and sticking to their values is always a priority. If there is a desire to donate part of the income to charity, this is done. If the opportunity arises to spend several years developing a high quality and matt finish for a product, it is undoubtedly done.
From the very beginning, Klean Kanteen bottles were created with love – for adventure, green spaces and replacing plastic. The brand is perfectly able to combine an adventurous spirit with a convenient and environmentally friendly solution.
The sustainable Klean Kanteen thermo bottles are available for purchase at UDENSPUDELE.LV.
S'well water bottles – functional and colourful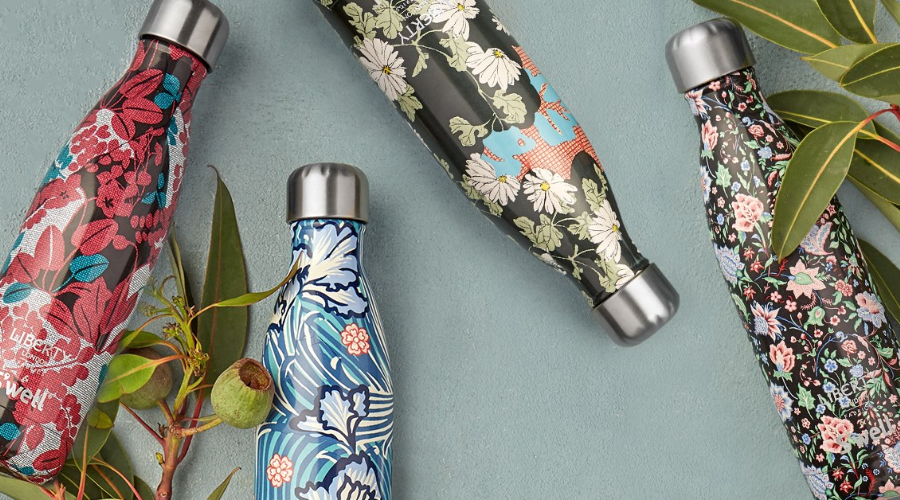 In 2010, the founder of S'well decided to set herself the goal of ridding the world of single-use plastic bottles. At a time when sustainable products were not yet in fashion, the brand didn't delay long and created the first reusable water bottle made from sustainable materials. A water bottle that is both functional and in style.
It all started with S'well's first water bottle – a 500ml heat-resistant thermal bottle that can keep drinks at a refreshingly cold temperature for 41 hours and hot for up to 18 hours. The range then expanded from water bottles to food storage containers and various sustainable accessories.
Every day, the brand surprised customers with modern, innovative and joyful solutions to reduce plastic waste in everyday life. By creating bottles, utensils and various other kitchen accessories, the brand believes that small steps like these can change the world. Doing good through design and innovation. The design of the products is directly joyful – colourful, bright and original.
Stanley mugs, thermoses and bottles with over 100 years of history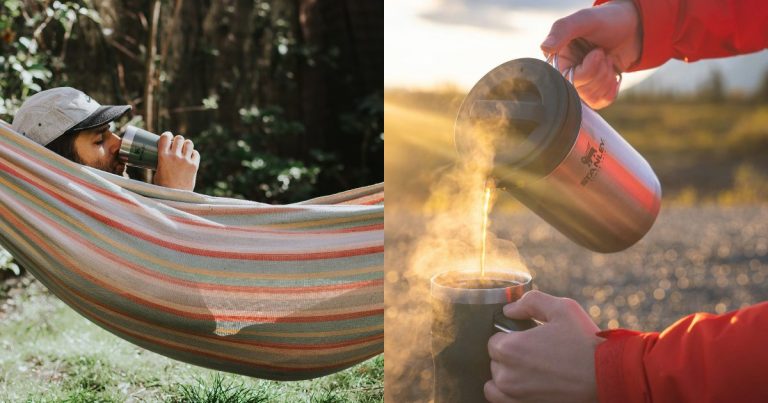 The Stanley brand story began with inventor William Stanley in a year of 1913. On that year, he changed the way people drank hot drinks forever. He introduced vacuum insulation, conveniently combined with a stainless steel water bottle. A remarkable and useful invention, which today we know as the steel thermo-bottle.
The most sustainable products are those that have never had to be thrown away in their lifetime. By using one of the most easily recyclable products, stainless steel, the brand has ensured that its ecological footprint is minimized as much as possible. And it helps to do this every day by encouraging society to adopt a more sustainable lifestyle. For more than 100 years, the Stanley brand has been creating durable and high-quality water bottles, food containers, kitchenware and much more. In the thermos and thero mug segment, Stanley products are among the most popular in Latvia – more in our article Top thermo mugs.
Although Stanleys is one of the first brands to create sustainable products, they are happy to say that they are not the last. In the fight against climate change and giant plastic pollution, the brand team is happy to be fighting side by side with other companies. For them, the most important thing is to create products that last forever, while using their lifetime and the next one to do good for the planet and people.
Stanley sustainable thermo bottles and Stanley insulated cups are available for purchase at UDENSPUDELE.LV.
SIGG water bottles – market leader in aluminium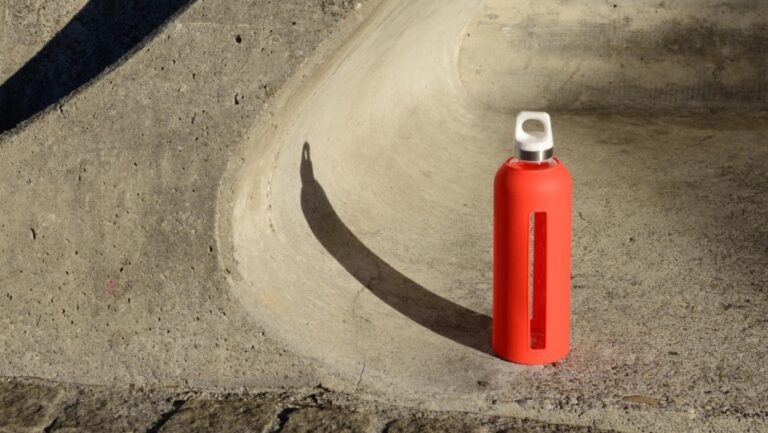 SIGG water bottles are another brand with an amazing story. The idea for SIGG bottles was born in 1908. when the founder set up an aluminium goods factory in Switzerland. The first SIGG water bottle was created as a result of saved resources in a war years. It soon became the world market leader in aluminium water bottles.
Today, the SIGG brand proudly creates a wide range of products that everyone can enjoy. The brand offers a range of different water bottles, insulated cups, travel mugs, lunch boxes and all the accessories you need. The products come in a variety of shapes and materials, colors and functions.
Each SIGG water bottle collection is well thought out and offers several options so that everyone can choose the one that suits their taste. The brand also creates products for children.
You can buy sustainable SIGG water bottles at UDENSPUDELE.LV.
For more information on water bottle brands, see our article My EQUA water bottle review and The fun SIGG water bottles
May you find your perfect water bottle! Also, check out articles best thermoses and best insulated cups.