Flowers make great decor. However, they don't last very long once they've been cut. The good news is, there are flowers that will last you for however long you want to. Yes, we are talking about flower wall decals.
Stickerinos offer flower wall stickers that will turn any room into a small wonderland of flowers. They are eco-friendly, waterproof, removable, and washable. In this article, we chose our favorite ones. Take a look – maybe you'll love them as much as we do!
Gallant Blue and Violet Hortenzias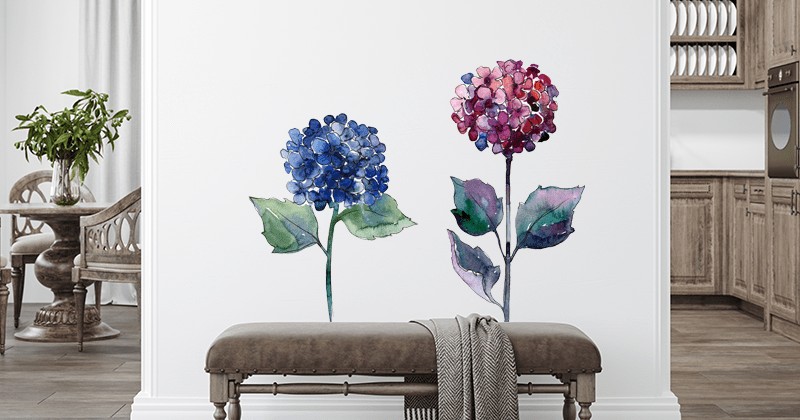 Two beautiful pieces of fabulous hortenzias. They look as if an artist came to your house and painted them with his watercolors. Noticeable and gorgeous, these flowers are often associated with gratitude and heartfelt emotion.
You can get them in different sizes (small/medium/large). Hortenzias will add a nice touch to your living room or bedroom.
Tender Aquarelle Flowers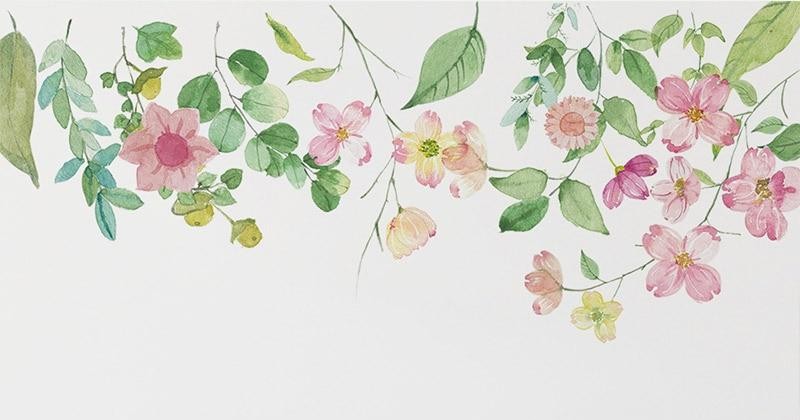 A lovely sticker of leaf thread together with pretty flowers in warm colors. Without any doubt, this sticker will make your kid's bedroom a beautiful, peaceful place to be. Stick these flowers above the bed or decorate their play corner.
However, you might want to add other types of stickers by their desk. The best stickers for kids
are the ones that teach them something.
Birds on a Cherry Blossom Branch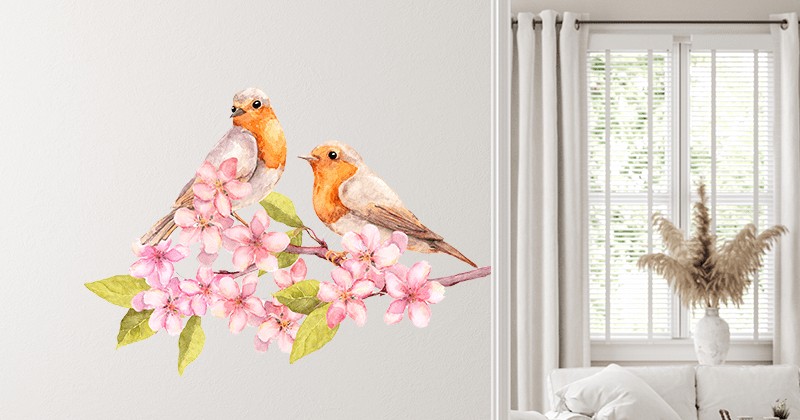 For a true nature lover, this is the sticker that will definitely stand out. Two beautiful birds and soft cherry blossoms. It's easy to imagine that it's a small piece straight from the breathtaking sakura gardens in Japan.
Bright and cheerful – it will be a great addition to your kitchen.
Charming Peonies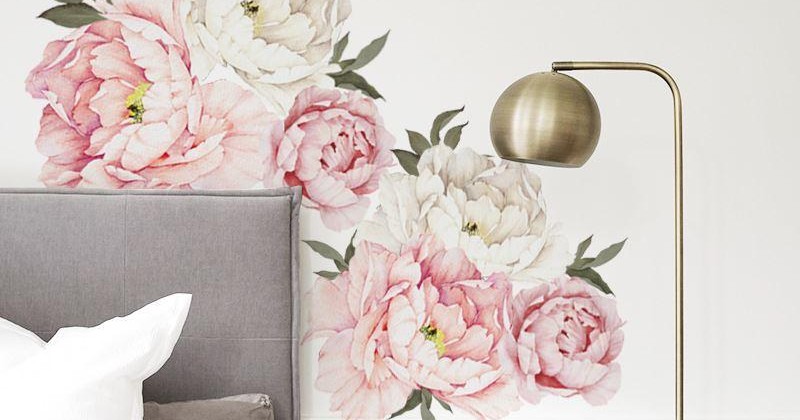 These peonies indeed will bring charm to your room. Big, detailed, yet soft and delicate at the same time.
These peonies will look great in your bedroom – place them on the wall behind your bed. They symbolize love, honor, romance, beauty, and happy marriage.
Graceful White Wildflower Peony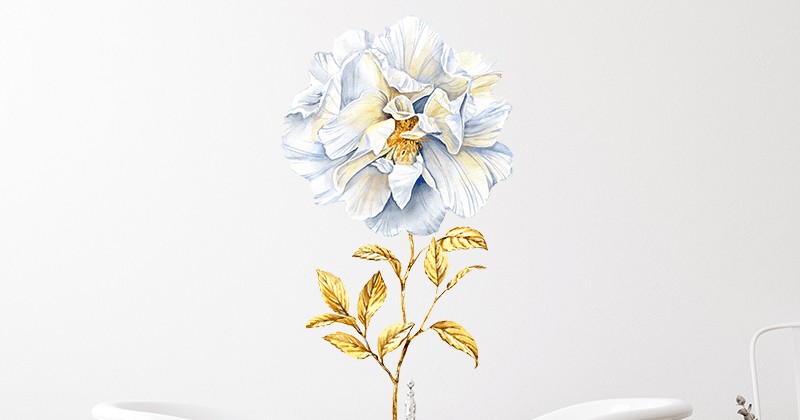 Light blue/white metallic petals and golden leaves – a purely elegant choice. It's a sticker that will make the simplest room look chic.
This wildflower peony will grow beautifully in your bathroom.
Charming Flower Parade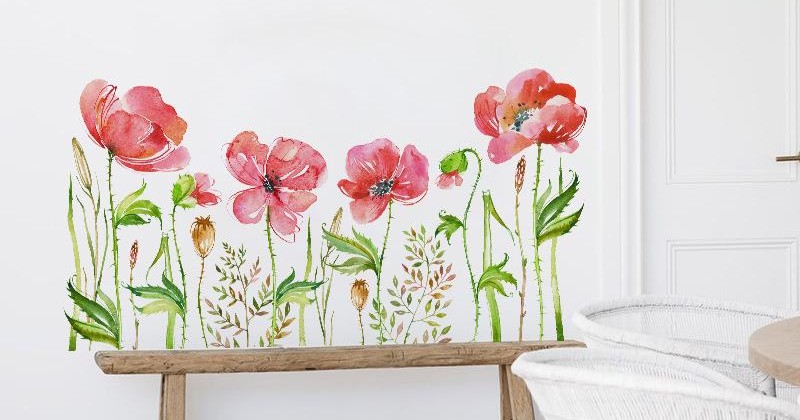 Poppies are amongst the best-known and brightest wildflowers there are. This set of flowers will work great in your hallway. Grab more stickers and you can easily imitate the feeling of a flower field in your own home.
Wild Pansy, Larkspur, and Buttercup Bouquet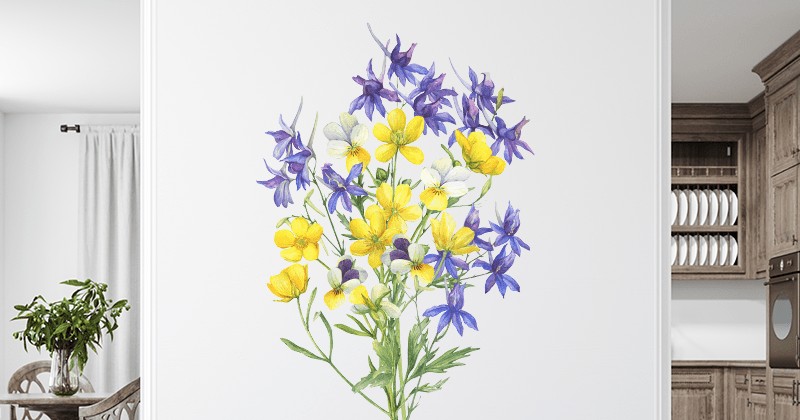 Continuing with wildflowers – we have a pansy, larkspur, and buttercup bouquet. Blue and yellow go great together – it's a piece that everyone who visits your home will notice right away.
While there is a mix of flowers together, it's still neatly organized. This bouquet will bring some color to your kitchen or dining area.
Transparent Pink Poppies with Petals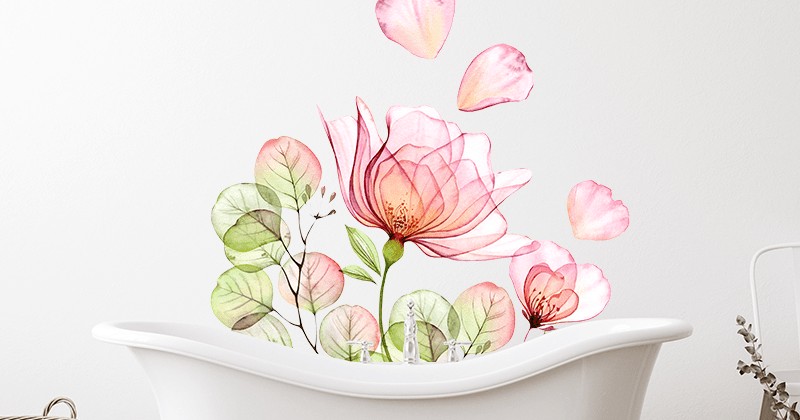 If you're a romantic at your heart, this piece will speak to you. It's elegant, delicate, and truly romantic with transparent petals and leaves.
It will look the best in the rooms you want to make feel more intimate and amorous, for example, your bathroom or bedroom.
Flowers are believed to bring positive energy inside one's house. Maybe it's even possible in the form of stickers. But one thing is for sure  – they will make your home look fabulous.
In the article Unicorns and fairytales: wall decals in my daughter's nursery you can read more on wall decals for children. Check out my experience!