Aquarius celebrates birthdays from January 20th to February 18th. Aquarius is an air sign. People born in the sign of Aquarius are of free thought, so the scientific and technical sphere becomes their favorite occupation. If you know a person with of sign too, then you're in luck to find awesome birthday gifts for Aquarius man in this article.
We have also written a separate article on gifts for women, which you can find in the following link – Birthday gifts for Aquarius woman.
A little bit about Aquariuses
Aquarius is the man of the future, he is unpredictable and original. He often does not understand himself, so if you do not live with him, you will hardly be able to guess what gift he would need most. But it doesn't matter! Because Aquarius is so curious that he will rejoice in any gift that will surprise him.
The element of surprise plays a huge role in the gifting process when it comes to Aquarius. They love to have surprises made for them, therefore do not spoil anything for them.
The gift has to be extraordinary
Everything new, unusual, funny, strange and extraordinary can be a good gift for Aquarius. This will allow you to think more openly and out of the box. Even the most simple everyday things can be gifted in this case. You just have to keep in mind that they still have to be unique and original in some way.
Remember that this gift should come as a surprise so that Aquarius doesn't even realize what you want to give him, otherwise all his vivid emotions will be spent in advance.
Never ask Aquarius what to get for them
Aquarius loves surprises and he would not want to know what you are giving him for birthday. It might be easier for you to ask the sign itself what he would love to receive but this is not the case it would be successful. Aquarius loves the uncertainty, so let him have it!
In this gift guide we have taken into consideration the many sides of an Aquarius characteristic. We are sure you will be able to find at least a few amazing gifts that will be perfect for your birthday Aquarius.
The flower of Aquarius
If your Aquarius has a garden, he will enjoy water lilies that can be planted in the pond, a perennial ornamental plant, or an exotic plant that will be the only one in his surroundings – no neighbors or anybody else will have anything like that.
When we talk about the flower of Aquarius, it could be the beautiful and exotic orchid. That is the flower that the sign of Aquarius will enjoy a lot due to its uniqueness and exotic nature. These are the flowers that are often colored too – therefore there is more to choose from. Those will not be some basic flowers in white or pink, you can find some blue or even black orchids to surprise Aquarius with.
Gift ideas for Aquarius men
Now that you've learned a little bit more about the character of a Aquarius man, let's move on to some realistic gift ideas.
Gifts are listed in the following categories:
Fun adventure
Aquarius loves adventures therefore an adventurous gift for their birthday will be the best choice. Pick something wild and fun that he would enjoy doing. Here are some options!
Hot air balloon flights
An adventure that everyone should try at least once in their life is a hot air balloon flight. This will allow Aquarius to fulfill one dream of life, which is to fly high in the air. The flight usually lasts about an hour, but the preparation time must also be taken into account. If you plan to take Aquarius on a flight and do it as a surprise, make sure that he dresses comfortably and warmly.
The flight usually takes place in small groups of people, so this will be a great opportunity not only to have a good time and try something new, but also to share impressions with others. If you want to pamper Aquarius on special holidays, you can also give him a hot air balloon flight for two. That would be a very cute and romantic date!
Horseback riding
Horseback riding is a great way to spend time outdoors. This activity is relevant throughout the year, so Aquarius will be able to choose when to enjoy it. Many places offer the opportunity to turn riding into a beautiful photo session that can be organized in a meadow, forest and even by the sea. Pictures will be a great memory for a beautiful birthday gift.
You can also go horseback riding with your loved ones – with your other half or with the whole family. Horseback riding is a great way to spend time together and enjoy the harmony and peace of the horses.
Scuba diving
If your Aquarius has the chance to go scuba diving but for some reason still hasn't been, it is time to give him this fun and wild adventure for birthday. This activity is so freeing and peaceful, he will get to swim together with fishes and enjoy every moment under the water. Almost everyone who has tried this, wants to do it again soon.
You shouldn't worry about him if he has no previous experience because there is a preparational training at first. Only then they allow you to go into the water so everything is totally safe. This will be one hell of an experience to associate with your birthday!
Quad biking
A ride on a quad bike is an original gift that will allow the Aquarius to have a good time, breathe in the fresh forest air and have a good time. Those who love speed and active recreation will enjoy this adventure. Mostly these quad biking adventures are in forests, however, as seen in the photo, at times they can also be held in some dirt roads.
This will be a great way to restart your energy and totally forget about anything else that is going on in the Aquarius's life. Quad biking is one of those sports that let you completely forget everything else and just live in the moment.
Original gifts
An original gift is something interesting and unique – something the Aquarius probably didn't even know you can get as a gift. Itcan be a fun adventure as well, or it can be a fun service for him to enjoy, maybe.
Fun escape room
If you are a little more active in your search for a gift, then a quest or escape room will be a useful gift idea. Aquarius enjoys exercising his mental abilities by solving various tasks and following instructions. To do something seemingly impossible at first is in the taste of Aquarius. So such a very mystical quest as an escape room will be just in time.
To choose the most suitable quest, consider whether the Aquarius prefers fairy tales, thrillers or maybe even detectives. Often quests are based on such genres. Just make sure that the man is free for said date to go to the escape room. Or simply get him a gift card so he can go any time he would like.
Grooming at the Barber's
A visit to the Barbershop is a practical gift that will allow the recipient to get a professional haircut, a tidy beard and the opportunity to enjoy other beauty treatments. Barbershop salon accepts employees who specialize not only in men's haircuts, but also in their coloring, styling, beard brushing and other beauty treatments. This is a place to get quality service that won't disappoint.
If your Aquarius man is interested in his self care, then grooming at the Barber's will be a cool gift idea. Maybe he will even get to find a new style of hair or the whole appearance that he will enjoy from now on. A completely new look!
Food subscription
Aquarius loves surprises so gift ideas could include something that comes every month. Those could be some fun food subscriptions for example. Maybe he would like to take up a healthy lifestyle, therefore some healthy snacks or pre-made meals will serve as great motivation to stick to his plan.
It could also be a bunch of different kinds of services, maybe a beer subscription, wine subscription or anything else really. Think about what subscription services are available near you and pick one for your Aquarius.
A gift card for tattoo
If you know Aquarius who has many tattoos, odds are that he would love to get some more. Tattoos are somewhat addictive, since you start doing this kind of art it really compels you. So if you know an Aquarius that loves tattoos, an original gift for him would be the chance to create some more amazing tattoos with a gift card in a tattoo parlor.
This could also be a cool gift idea for somebody who wants to get their first tattoo. However this is a little more tricky, because you don't want to push them to go and get the tattoo. It has to come naturally and when they are ready for it.
Luxury gifts
Aquarius loves to treat himself and he certainly loves when other people do so as well. When it comes to luxury items, Aquarius expects something that is truly special and of excellent quality so it lasts for a long time.
High quality leather wallet
Nature-inspired materials make a perfect gift choice for the Aquarius. One of the practical gift options could be a nice leather wallet – this will be a great gift for a man Aquarius.
Here we must remember the well-known fact that it is not worth giving an empty wallet. The original way to come up with an alternative could be to hide the gift card in the wallet. It would provide more emotional value than money. It would also be more interesting – in addition, two gifts in one go!
An alternative to a wallet could be a credit card holder– a wallet-like accessory that will be more useful for those who often do not use cash.
Classic wrist watch
A classic wrist watch is a practical gift that will give the recipient a useful everyday gadget, as well as teach them to be confident and punctual. If your Aquarius guy needs a new watch, then it is definitely a great gift to give him on a special occasion such as a birthday. This is also the case if you want to treat someone with their first watch.
Many people, despite the most modern versions of watches, still choose a classic everyday watch for very simple reasons – it makes a good first impression. Also, classic watches just look elegant, which is often not insignificant.
Male pamper session at a SPA
Relaxation is a gift that is so nice to get on your birthday. It means that the person who is giving you the gift truly cares about you and your well being. Amazing way to give relaxation and well spent time is a SPA session – yes, even for the males.
Aquarius male love spending some quality time alone, to gather their feelings and thoughts. To do so while also relaxing in a pool or jacuzzi, is the best way to spend time. Maybe there is some specific procedure your Aquarius would love experiencing – some exotic massages, jacuzzi and pool options, sauna etc.
Futuristic technology
Aquarius is amazed by the future-like objects that can be used in daily life. Technology always excites Aquarius a lot because it constantly evolves and creates new models for even more efficient life. So any technology related item will be an amazing gift for Aquarius male.
Smart watch
A new smart watch could also be a suitable gift for an active Aquarius in the technology section. If you are ready to invest more in a gift and surprise him with something valuable, then this gift idea will be just in time.
Today's smartwatches are endowed with a wide range of functions. They no longer only show time and number of steps walked, but also measure your heart rate, monitor sleep and stress levels, record workouts, and more. If the Aquarius wants to start playing sports or is already doing so, then a good quality smart watch will be an ally that will always come in handy. Watching your progress, which is now possible with the smart watch, is the best way to grow.
Wireless charger and UV cleaner set
While we are still living in the times of pandemic, staying germ-free is more important than ever before. That means regularly washing your hands and making sure your belongings are clean too, such as your phone. This is where safety and technology combine, creating this amazing wireless charger and UV cleaner all at one.
This fun and useful UV sanitizer doubles as a 10W fast wireless charger, allowing you to charge your Qi-enabled smartphone while you sanitize another device. How fun is this? For the technology obsessed Aquarius this will be the perfect gift!
Temperature control smart mug
Coffee tastes better hot, and thankfully there is a gift for Aquarius man who loves his hot coffee or tea. This amazing coffee heater works as a smart mug – it keeps the coffee or tea hot for hours. The intuitive app allows a coffee drinker to tinker with the degrees to best suit their preference, and alter settings for espresso, tea, and more.
It is a perfect gift for the busy Aquarius who often gets distracted by work or anything else and doesn't finish his coffee. Then he finds the coffee already cold and the whole relaxing and drinking coffee part is not enjoyable. Maybe with this smart mug heater coffee moments will bring joy again!
Home projector for movies
For the big movie fan, good birthday gifts for Aquarius man could be a projector. It is a cool way to watch movies on the big screen at the comfort of your home. Sure, the quality is not the same as the cinema, however it creates an amazing vibe – cozy and warm. To set up your room as a cinema sounds very fun!
Besides, this will be a fun date idea too. If you are looking for ways to surprise your Aquarius boyfriend with something practical but also cute, this is the way! Create a cute movie night and then later tell him that the projector actually is his to own!
Household items
When it comes to household items, there are a few things that Aquarius will enjoy. As with everything else, any item in his house needs to have purpose. Here are a few ideas for birthday gifts for Aquarius man and his household.
A fun room decor
Aquarius will love anything that brightens up his room therefore a cool decor for the house could be a fun gift idea. An example that we found is this Jordan wall art that is meant for the Aquarius that is truly obsessed with his sneakers. We all have that one friend who has a closet full with sneakers, maybe this is about your guy too.
This is a fun gift idea however it can be chosen differently too. Think about the style your Aquarius loves the most. Maybe it is some art that is more classical!
Cool t-shirt with a print
We also add clothing to household items, especially those that are as comfortable to wear as t-shirts. It is a cool gift choice when you want to give something stylish, but also simple. T-shirts are a versatile piece of clothing that can be worn almost anywhere – jeans and shorts of all kinds, fancy or not.
When choosing a shirt for Aquarius, it is important to find a unique and stylish design. Extra points if the design is futuristic. To make the gift more special and to make sure that the design is really original, printing is always a good option.
Record player
There is nothing better than creating a warm and positive atmosphere in your household by playing your favorite music. If your Aquarius is a huge music fan too, then your gift idea is set – get him a brand new record player. The old soul in the Aquarius will love it. To go with it, maybe find some of his favorite band records too.
This gift will be super unique and will serve in his house greatly. Besides, this gift will also look amazing as an interior decoration. Not to even mention the practical sides of playing some high quality music in the most classical way.
Fun and cozy sock set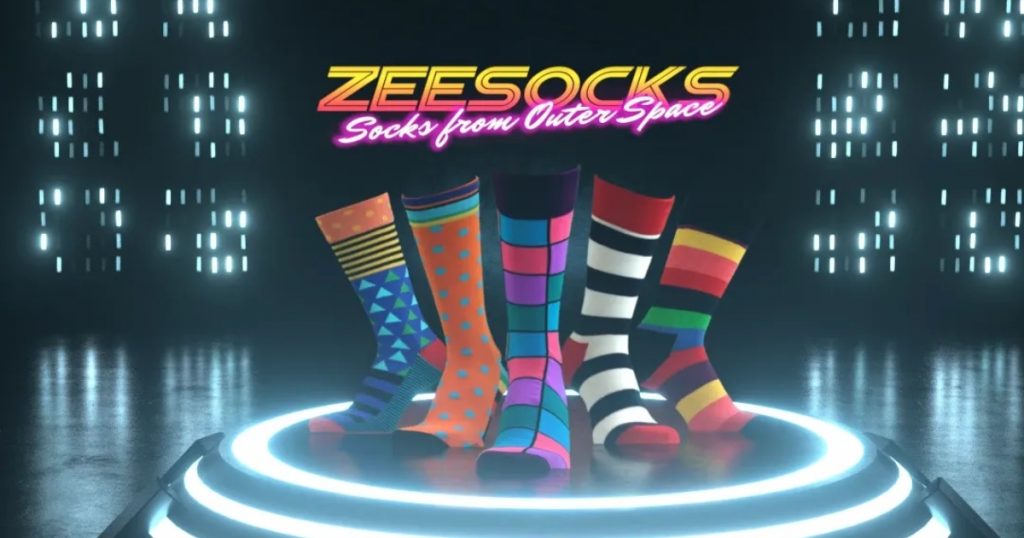 Since Aquarius loves original and fun gifts, why not make socks fun? Nowadays it is a perfect accessory that can clearly brighten up your whole outfit and make it pop. Zee Socks is a brand that creates socks in fun themes and colors – space, fruits, candy and a bunch of different shapes and figures.
As seen in the photo, you can also choose a set of socks which would be more appropriate for a gift choice. These socks are truly fun and colorful, so why not brighten up the day of your Aquarius?
Self made sweater
Quality is very important in the eyes of Aquarius, so every chosen item must be the best and with a special story. The sweater is a suitable gift for the birthday in the coldest months of the year, but it will be especially pleasant if the sweater is hand-knitted. If you don't know how to knit yourself, then the alternative could be choosing some local artist work.
It must be a good quality sweater as well – made of the highest quality yarn. As Aquarius appreciates not only the functionality of the gifts, but also the appearance, it is also worth taking care of the beautiful packaging or presentation.
Cool souvenirs
Aquarius isn't one to be crazy about small and unnecessary items. They usually will not be the collector types who will hold onto things they do not need. However there is still a bunch of fun stuff to get Aquarius from the souvenir category. Here are some ideas!
Expensive sweets
If you are looking for gift ideas for Aquarius, which you do not really know so well, then the best solution in this case will be classic sweets. It should be emphasized that Aquarius does not like to receive something basic and cliche – something that can be bought in every second supermarket. So think of a place where you can find some especially expensive and exquisite sweets.
An alternative to this gift could be anything from the top shelf. For example, neatly packaged coffee or tea. The emphasis can also be on uniqueness and not the price. Then a good choice could be home baked bread, beautifully wrapped, for example.
Zodiac sign bracelet
While looking for birthday gifts for Aquarius man, jewelry can also be an option. These cool Aquarius sign bracelets are very simple but also chic. If your Aquarius man likes to wear some jewelry once in a while, then maybe this one will end up being his favorite one to wear on a daily basis.
It is cool and simple – perfect for the Aquarius male. The fact that it is handmade will only give this gift even more meaning. So this one is perfect for your brother, cousin, boyfriend or even a husband.
Neon flashing sign
Aquarius men love some bright and colorful objects. So when thinking about birthday gifts for Aquarius man, think about some cool decor for wall art that he could use. A good example is neon flashing signs. Those are super modern right now and can be used for a bunch of different reasons and locations.
He will be able to have one in his living room or his bedroom. Or maybe even having one in the kitchen with some quirky saying will do! This is a fun gift idea to go and try to find.
What not to give an Aquarius man
Huge objects in a pompous style, such as a painting, are alien to Aquarius nature. He has his own, more subtle views of "luxury" and taste.
Aquarius has a peculiar sense of humor. He adores fun, but at the same time he likes to be in control. Therefore, he will most likely not be able to appreciate the gift that is meant to be a joke. Therefore do not give him anything that he might get offended by.
How to wrap the present for Aquarius
Although packaging and the wrapping of the gift isn't the most important thing to the Aquarius, he does like that the gift has been chosen very thoughtfully. The same applies to the wrapping. It doesn't have to be anything crazy expensive. It will mean more if you have done the packaging yourself – it is important to the Aquarius that you have put time and effort into it.
Hope you found some cool and useful birthday gifts for Aquarius man!